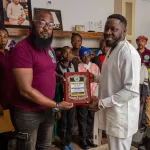 The Actors Guild of Nigeria Plateau State Chapter has bestowed the prestigious title of "Grand Patron" upon Chief Kefas Wungak Ropshik. The decision was reached after careful and thorough deliberation by the esteemed guild members, recognizing Chief Kefiano's remarkable contributions to the entertainment industry and Nollywood as a whole.
The grand award ceremony took place alongside a joyous celebration of the successful graduation of Chief Kefiano's adopted children through the renowned KEFIANO FOUNDATION, which has been making significant strides in empowering young talents.
The Chairman of the Actors Guild of Nigeria Plateau State Chapter, Mr. Alfred Baker Mgbejume, enthusiastically highlighted Chief Kefiano's immense impact on the entertainment sector in the region. The utilization of Nollywood veterans' services by Chief Kefiano to boost entertainment on the Plateau was especially commended, underscoring his dedication to elevating the local creative community.
Moreover, Mr. Alfred Baker Mgbejume praised Chief Kefiano's tireless philanthropic efforts, which have benefited numerous individuals and communities in need. These acts of kindness and generosity further solidify his place as a respected figure in society.
Overwhelmed with joy and gratitude, Chief Kefiano graciously accepted the "Grand Patron" honor, viewing it as both a recognition of his past accomplishments and a challenge to do even more for the motion picture industry and the Actors Guild of Nigeria Plateau State Chapter.
During his acceptance speech, Chief Kefiano announced plans to establish a strong alliance and immediate collaboration with the AGN Plateau State Chapter. Together, they will launch the KEFIANO CREATIVE HUB, an initiative aimed at providing training and support for aspiring talents in the region.
Furthermore, Chief Kefiano humbly sought the goodwill of the Actors Guild of Nigeria Plateau State Chapter in fostering the creative and acting skills of the beneficiaries of his foundation going forward. By joining forces, they hope to create a thriving environment for artistic expression and cultural growth.
"As we move forward together," Chief Kefiano stated, "let us embrace this moment to elevate our beloved motion picture industry and to uplift the dreams of countless aspiring actors and actresses."
The show is indeed on, as the popular slogan and chant resound through the Actors Guild of Nigeria Plateau State Chapter. With Chief Kefas Wungak Ropshik assuming the role of Grand Patron, the future of Nollywood in Plateau State looks brighter than ever.