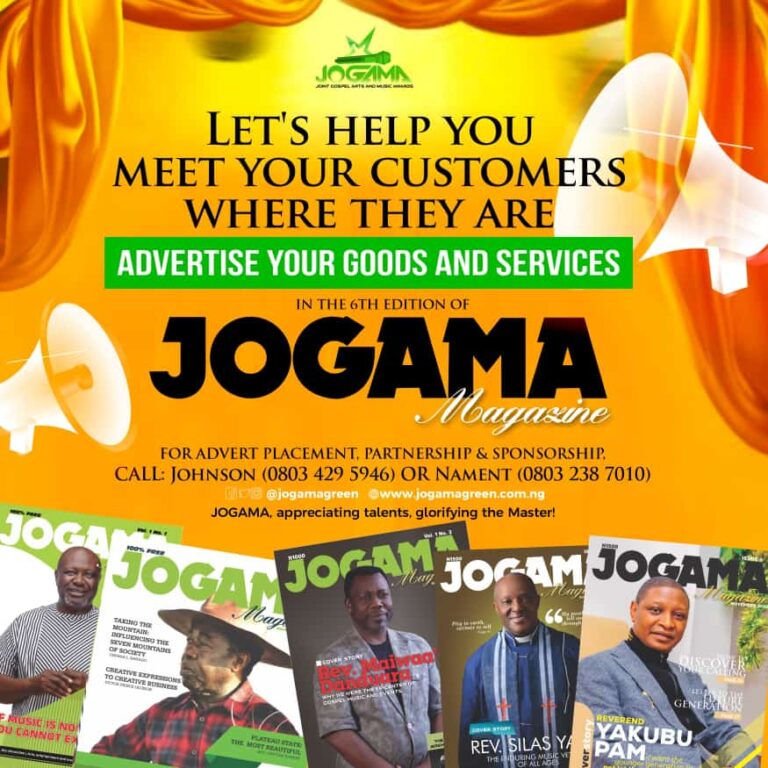 The JOGAMA Magazine is one of the outstanding Entertainment and Publications platform in Nigeria that one needs to advertise his/her brand on.
Some certain reasons why one needs to advertise with the JOGAMA MAGAZINE are Audience, Credibility/Trust, Longivity and The Great Commission
Audience: We have an audience that spans over 12 years of our Organizations existence. This will in turn bring your products and services nearer to higher engagement and conversion rates compared to more generalized advertising mediums.
*Credibility and Trust:* JOGAMA Magazines have a long-standing history of providing wholesome, credible, and trustworthy content. By associating your brand with our reputable magazines, you can enhance your brand's credibility and trustworthiness among readers. As your prospective clients often perceive magazine advertisements as more legitimate and reliable compared to other forms of advertising. This association can positively influence the perception of your brand and encourage potential customers to consider your products or services.
*Longevity:* we offer a physical and tangible format that readers can hold and keep. Unlike digital ads that can be easily overlooked or forgotten, magazine advertisements have a longer lifespan. People often keep magazines for weeks or even months, allowing your ad to be seen multiple times over an extended period. This extended exposure can increase brand recognition and improve the likelihood of potential customers remembering your message when they are ready to make a purchase.
*The Great Commission.*
It is pertinent to note that our magazine is a gospel art publication. Our way of protecting the gospel using artistry. By advertising, you're also doing the youth part of the great commission. which is aiding us to reach out to art enthusiasts with the gospel.
Kindly find our advert rates below:
Back Page Cover:N 150,000 Full Page:N 50,000 Half Page:N 30,000 Quarter Page:N 20,000 Inside Back, Inside Back Side, Inside Front N 100,000.
Your picking of any of the spaces above is actually you partnering with us as we nurture the
talent that abound in Nigeria.
#JOGAMA13
#JOGAMA2023
#iSupportJOGAMA