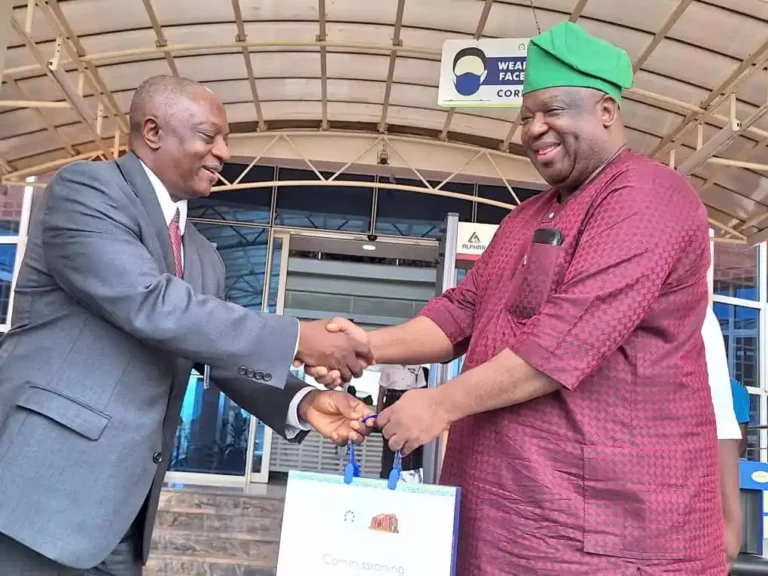 The Executive Governor of Plateau State, Barr. Caleb Manasseh Mutfwang has expressed strong desire to collaborate with the Institute of Human Virology, Nigeria (IHVN) in a bid to enhance the state's health sector, this was contain in a press statement issued by the director of Press and Public Affairs to the Executive Governor of Plateau State Gyang Bere on the 29th August, 2023.
The governor while addressing Management and staff of the Institute shortly after a courtesy visit to the Chief Executive Officer, Dr. Patrick Dakum at the IHVN headquarters in Abuja on Tuesday, Governor Mutfwang acknowledged with delight, his longstanding relationship with Dr. Dakum.
He expressed his determination to leverage on the partnership to advance the health sector within the state.
Governor Mutfwang praised Dr. Dakum as an accomplished technocrat who has made significant contributions to Nigeria's health sector. He noted that the history of IHVN is closely intertwined with Dr. Dakum's impactful work.
"In my view, both Plateau State and the entire nation of Nigeria benefit from this institute. I offer my sincere prayers that the Institute continues to thrive and contribute to the well-being of humanity. I am confident that the abundance of institutional knowledge and capacity will significantly enhance governance in Plateau State. The health sector, being of utmost importance, warrants a focused and critical approach."
Governor Mutfwang renewed his plans to enhance both primary and tertiary healthcare in the state, with a specific focus on providing essential health interventions for vulnerable children and women.
Welcoming Governor Mutfwang, Dr. Patrick Dakum, IHVN's Chief Executive Officer, expressed his delight for the visit and affirmed his full support for the Plateau State Government's leadership under Governor Caleb Mutfwang.
Dr. Dakum pledged his vast experience to rejuvenate the state's health sector and vowed to offer valuable support.
"Our commitment is firmly rooted in supporting your administration. We are devoted to Plateau State's success and are eager to bolster the health sector within the state. We stand prepared to provide the necessary support." He said.
Dr. Dakum also disclosed that the Institute has been able to attract donors for various Nigerian Governors and expressed his readiness to bring about positive change in Plateau State as well.