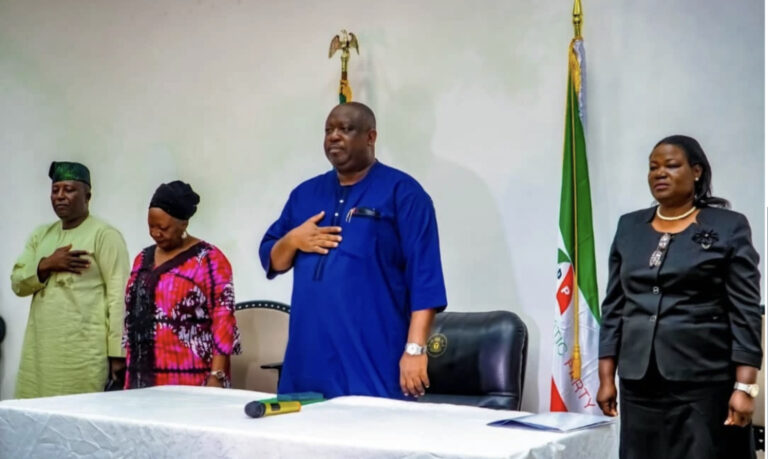 Plateau Government has faulted the directive issued by the Police Commissioner in the state, Julius Alawari, to unseal the secretariats of the 17 Local Government Areas of the state and allow the suspended chairmen to operate.
The Attorney General of the state, Mr Philimon Daffi, faulted the move while briefing newsmen shortly after an emergency Security Council Meeting on Sunday in Jos.
The meeting was presided by the Deputy Governor of the state, Mrs Josephine Piyo.
The News Agency of Nigeria (NAN) recalls that Gov. Caleb Mutfwang had on June 1, suspended all democratic structures in the 17 local government areas of the state and appointed Transition Committee Chairmen.
The suspension followed the recommendation of the State House of Assembly over allegation of financial mismanagement by the suspended chairmen.
NAN also reports that recently, the police had unsealed the secretariats of the local government areas and directed workers to resume work.
The directive, however, exempted all political office holders pending the outcome of their litigation.
The attorney general, said that the new directive issued by the command on Aug. 26, asking the suspended council chairmen to resume official duties was faulty.
He maintained that the directive has the tendency of throwing the state into serious tension if not properly handled.
''The directive has generated a deep seated animosity; it is heating the polity and also creating serious tension across the state
"The suspended chairmen have sued the state government seeking for restorative order after the interim transition chairmen were inaugurated.
''The application for restorative injunction has not yet been heard, it is a matter that is still pending in court,'' he said.
He explained that the state government had also gone to court regarding directive by the immediate past commissioner of police in the state , Bartholomew Onyeka, who directed the sealing of local government secretariats.
'' We went to the Bukuru Upper Area court and prayed the court for an order to open up the local government secretariats.
"The court heard our prayers and granted the order
"The order was served to all security agencies and other relevant organisations, but we received with deep shock another directive asking the suspended chairmen to resume office,"he lamented.
Daffi said that the emergency security meeting was organised to consult with all security agencies in the state toward ensuring law and order.
According to him, the council also deliberated on ways to manage plans by some groups in the state to react to the new directive by the police.
SOURCE: NAN