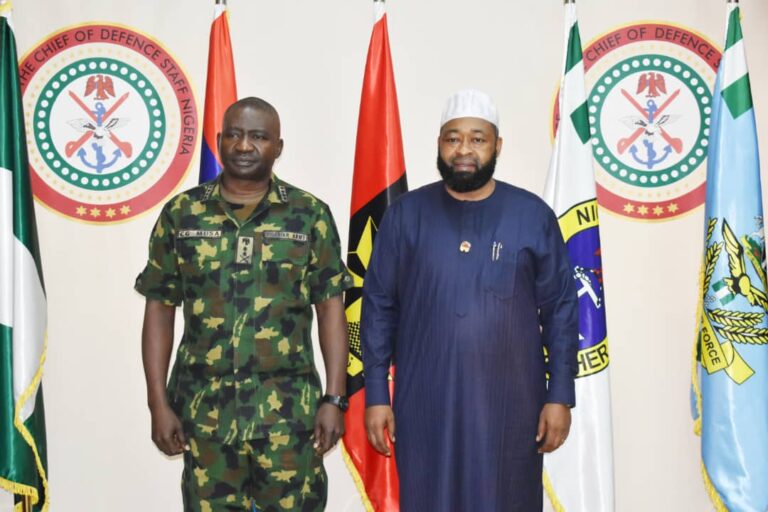 The Executive Governor of Niger State, His Excellency, Rt Hon. Mohammed Umaru Bago paid a courtesy visit to the Chief of Defence Staff ( CDS), General Christopher Gwabin Musa at the Defence Headquarters ( DHQ) today, Monday 14 August 2023. According to the governor, he came to congratulate the CDS on his well deserved appointment and subsequent promotion by the Commander in Chief of the Armed Forces of Nigeria ( AFN), President Bola Ahmed Tinubu.
The governor who noted that Niger State has the largest land mass in Nigeria, also added that the state is very close to Abuja. He said this proximity to the Capital City and the fact that Niger State is surrounded by alot of ungoverned spaces, calls for security concerns. He therefore, asked for the further corporation of the Armed Forces to help Nigerlites leave in a peaceful environment.
General Musa while welcoming the governor and his team also congratulates the governor on his election victory. The CDS said although the AFN is fully aware of the situation on ground, he noted that people always expect the Military to perform magic.
According to the Defence Chief, the Armed Forces of Nigeria remain strong, committed and steadfast in the discharge of its constitutional mandates.
General Musa further added that the AFN need to support Niger State in order to attract meaningful development. He also acknowledged the support of the state government towards the military and assured the governor of the AFN readiness to put everything humanly possible to assist Niger State.
Highlight of the event was the presentation of Souvenir.
Signed:
OO ADEMOSU
Gp Captain
For: DDI