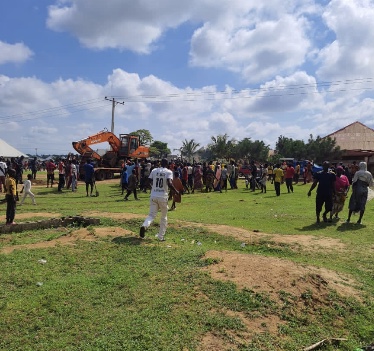 There was tension in Tudun Wada Community in Shendam Local Government Area of Plateau State when a bulldozer was brought in for demolition of houses in the area.
A team of police officers and mobile policemen also arrived the community in Hilux buses.
Teargas was used by the police officers to disperse men, women and children protesting the planned demolition.
The community had recently decried seizure of their land and houses, a situation that let the Inspector-General of Police to order the state Commissioner of Police to investigate the matter.
The community had accused the former Commissioner for Land and Survey, Festus Fuanter, of championing the exercise, an allegation that the former commissioner said was a case between his family and three others.
Fuanter claimed a court in the state had granted his family the ownership of the land, but the community denied this claim.
On Tuesday, members of the community protested against the planned demolition, saying they wouldn't leave their houses.
A resident, Garba Bashir said, "We were at home this morning when we saw police officers arrived at the community in their numbers. Some minutes after, an excavator was brought in a trailer. The situation was shocking. This land belongs to my father. He owns the land for the past 60 years. We built our houses for many years. Nobody claimed the land until now. We are not going anywhere.
Another villager, Inusa Iliyasu said, "We were taken unaware today in our community. I was in the market when news came to me that police had come to demolish our houses. I had to rush to the house to see what was happening. When I arrived at the community, I saw women and children crying. The entire community was thrown into confusion. This is not the first time they would come. "
Rukaiya Abubakar, another resident of the community, said they were tired of the harassment and humiliation.
"It is getting too much. Police often come and throw our property outside. Today they even came with an excavator to demolish our houses. We are calling on President (Bola) Tinubu and the state Commissioner of Police to intervene in this matter," she added.
The spokesperson of the state police command, DSP Alabo Alfred, had yet to respond to the call and SMS sent to him by our correspondent.