After sharing the video feature a couple of days ago, The Cover magazine's editorial spread for Waje is now available.
In her interview with the magazine, she talks about being a songwriter, her beauty regimen, the perception of female musicians not attaining a number one status in the industry and more.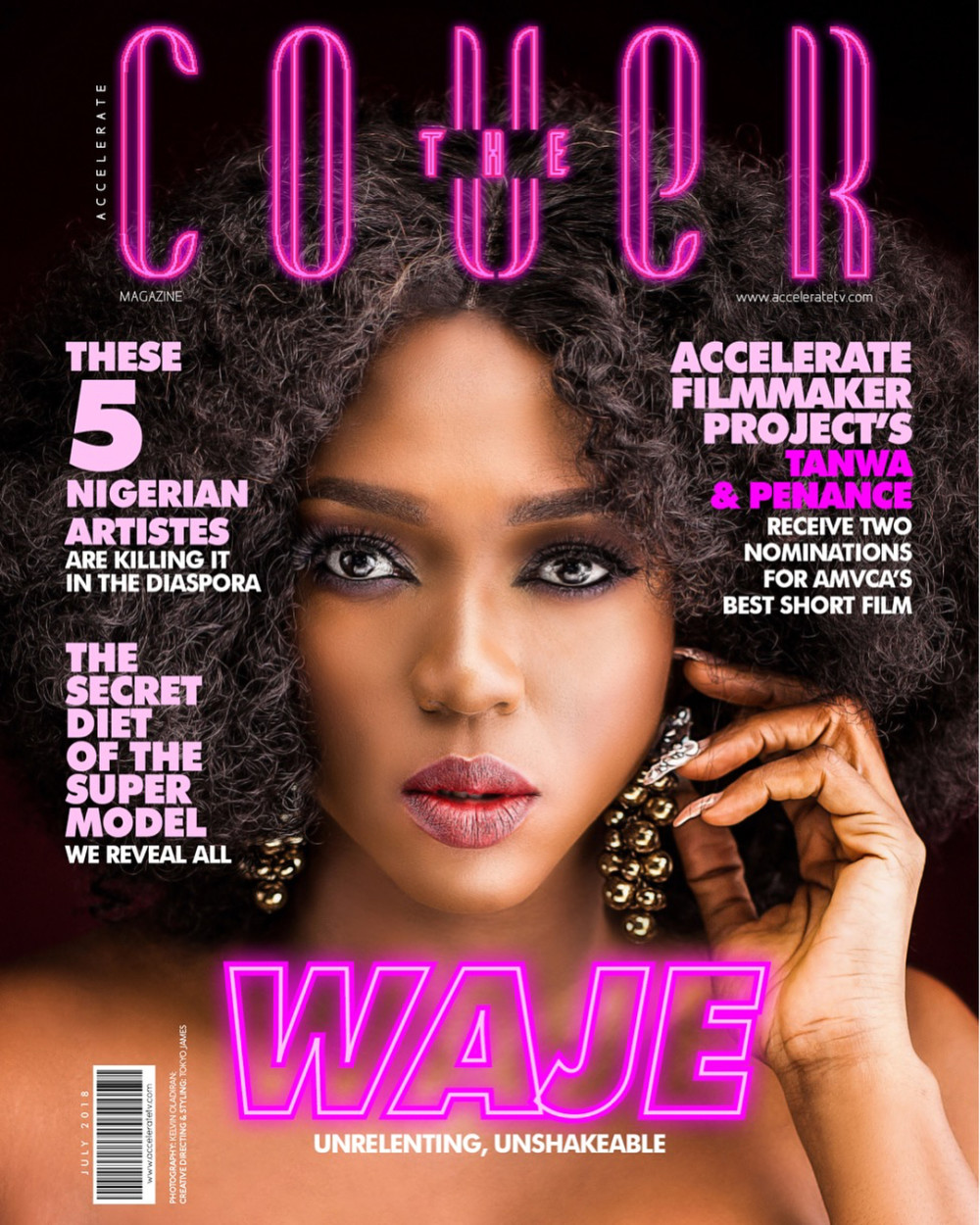 Read excerpts below.
On outfit influences for music videos: I would say how the concept of the video comes off and how I want to feel in the video. Every song has its interpretation and we try. I try as much as possible to bring the video to interpret what I was thinking when I wrote the song so I guess it is based on the message of the video and the mood of the video then I can say "okay this is how I should look".
On the uniqueness of her music: I would say what makes my music unique is first and foremost, who I am and my voice, because I feel like I am the only person who can interpret a song the way I do and every musician has different elements that make them themselves, based on their character, their surroundings, so I am not going to say the cliché things like 'Oh I'm this or it is the sound of the..' uh uh! It really doesn't work because (laughs) some of us are blessed with being able to do whatever it is. So I guess the difference would be the things that have influenced me growing up and my experiences.
On the perception of female musicians not attaining a number one status in the industry: I can't say honestly. It could be that they don't work hard enough, that is possible. It could also be that sometimes perception is what drives the narrative and it can also be the perception of the media that female musicians don't get to that point, you know what I mean? So, it depends on the context or in what situation because you have people that have really gone over and beyond. If I am going to talk about my mentor, Onyeka Onwenu for example – I still call her the Beyoncé of Nigeria, because sometimes I go back to her old videos like "dancing in the sun" and I feel like she really started opening the door. So, success really is relative, being number one is relative. What Michael Jackson achieved, some people are achieving it now but at the time it was timely so people can achieve more now.
On her 5-year album hiatus: Well, every time I have wanted to release an album, one thing happens and I have to get away or so. The first time, I had already told myself I wasn't going to release an album till three years after my first album and then The Voice came and I thought I could multi-task but it now became such a problem. I wanted to do it again and management said no let's wait until this time, and you know there are times when I really want to put out music but one thing happens. Right now, I have three albums already recorded but now my issue is which one to release. So, I got issues.