Dr. Patrick Sunday Dakum, the Chief Executive Officer of the Institute of Human Virology, Abuja- Nigeria, leader of the Consolidation for Greater Plateau 2023 Team and the Plateau State All Progressive Congress (APC) Gubernatorial Favourite, dressed in the Berom traditional attire, led his beautiful wife, Ngo Sarah Yop Dakum and the Consolidation Team to the Rwang Pam Township Stadium, venue of the Nzem Berom 2022 on Friday 20th May, 2022 expressing his love for his wife of 39 years, the Berom nation and future Berom in laws with a whopping donation of One Million, Five Hundred Thousand Naira (N1.5m) via the Wurom Legacy Trust Foundation Account with the GT bank.
While speaking at the Nzem Berom 2022, Dakum professed his love to his wife of 39 years and donated N500,000 on her behalf for being a dutiful and amiable wife, N500,00 for being her husband and another N500,00 to all Berom future in laws, urging single to rush for Berom ladies who are great wives, bringing the total donation to N1.5M.
The speech of Dr Dakum brought life to the entire event as it is made the well respected Gbong Gwom Jos, HRM. Da Jacob Gyang Buba (CON),Da (Dr) Jonah David Jang, former Governor and Senator of Plateau North and all invited guests fall into laughter and excitement of joy.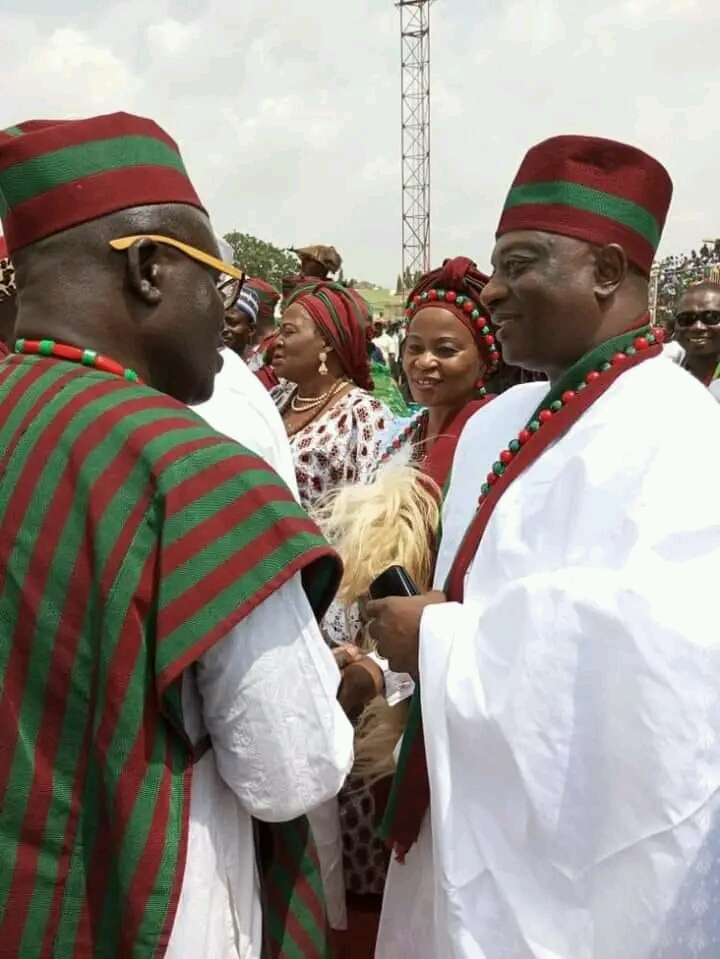 In his speech at the Nzem Berom Cultural Festival the Executive Governor of Plateau State, H.E Rt Hon Barr Dr Simon Bako Lalong KSSG said he is delighted to fraternize with the Berom nation and savour the wonderful culture and displays of the Berom people.
Lalong hinted that the 2022 theme of Nzem Berom which is celebrating the Berom in politics is timely when political activities are in top gear towards another transition in the state and the nation at large.
He urged that tribute be paid to great political actors from Beromland like Da D.B Zang, Da Patrick Dakotri, Ngo Sarah Dokotri, Da P.D Pwajok, Hon Edward Pwajok SAN, Da Toma Jang Davou, Da John Wash Pam, Da Anthony Bingyel, Ngo Mary, Ngo Mary Princewell, Da Micheal Bot Mang,Da Jonah David Jang, Col David Dung, Da Sen Gyang Dantong,Hon Gyang Fulani, Sen I D Gyang, Hon Simon Mwadkon, Sen Davou D B Zang,Ngo Naomi Jugu,Da Barnabas Dusu,Da Jonah Madugu,Da P. D Gyang and Da Rufus Bature amongst others.
The Executive Governor of Plateau State urged that we must never allow anyone to use religion, politics or ethnicity to create division and distabilize the state.
In his address, His Royal Majesty, Da (Dr) Jacob Gyang Buba (CON), the Gbong Gwom Jos called for a one minute silence for the repose of the souls of the faithful departed.
He pleaded with the political class to water down the undue, unnecessary tension and worsening insecurity associated with the advent of elections.
The Chairman of the Central Planning Committee, Da Bldr Dalyop Dachollom Jambol (PhD) in his remarks hinted that over the years, Nzem Berom has evolved from a festival of dance, music, drama and display of culturally endowed heritage into mega festival celebrated as the grand finale of Berom nation's festivities.