I met with Teddy A three days after his return to Nigeria from the Big Brother Naija show. The Instagram clip of him waving to fans from the rooftop of a Hummer Limousine still twirled in my head, as I watched my Uber trip counting down from Ikeja to Victoria Island. It was quite the spectacle, which, I'm sure, not even the man himself could believe.
"When you are in the House", Teddy-A recounts to me "You have no idea what's going on outside. You no know if you dey fuck up. You don't know if people actually like you. You have no idea what impressions you've created."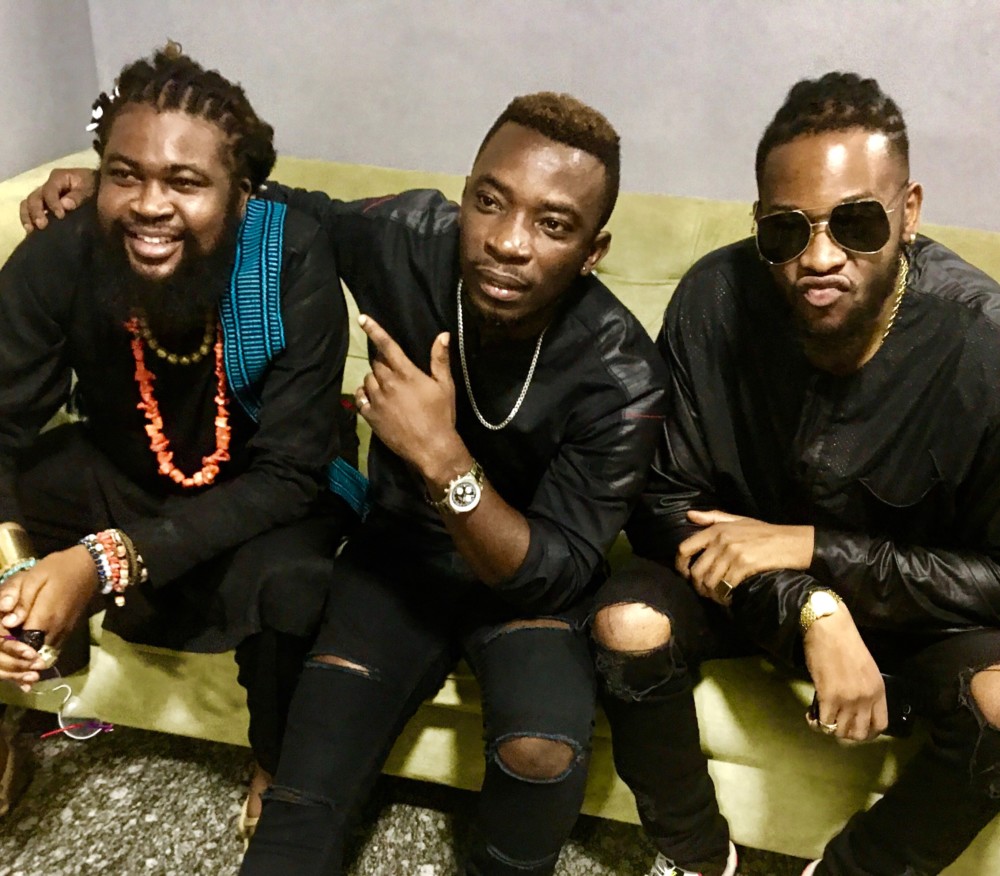 "You know, he continues, "My mother was standing by the corner staring at me. I'm sure she too couldn't believe it. Even BamBam saw the crowd outside and stepped back into the airport terminal. I held her by the hand and was like, hey, come with me."
I was asked by Teddy's manager, Onyeka Nwelue, who is a close friend of mine to have a meeting with him. As a brand strategist and PR consultant, he felt there might be helpful to trade ideas with him. And why not, I was a fan too, so why not. Perhaps, earn myself a picture, and famz for a minute.
It is funny how life, for good or bad, can quickly unravel. I walk into Teddy's hotel room, somewhere in the heart of Victoria Island, and I find seated, not one, but two top Lagos-based designers, and piles of clothes on the bed which he was trying out. Three phones lay on the desk beneath the LCD Screen, ringing none stop. "G", he called me "There's Hennessey VS in the fridge, but there's Martell right here", he pointed at the open woodwork on the wall. "Actually, I'll recommend the Martell bro," he adds.
In my head, I was like, "I'm just meeting this dude, and I'm G already? I like this guy!" Perhaps that's who he truly is, as far as human relations go. In many ways, he is easy going, warm to a fault, and just loves to be at ease.
As though, we were all thinking along the same lines, I and the two other gentlemen began a conversation on how exactly he was coping with the frenzied calls. "It's crazy. You know, I got a call from Basket Mouth yesterday after he had repeatedly called several times. Apparently, I was asleep though. He said he'd been ringing me, that he just called to say I should keep my head up. I was like Baba, I didn't even know you were calling, the phones never stop ringing. And he was like, 'I understand as e dey be, but get used to it. This is your life now."
In the middle of the conversation, the reception rings the room. He has guests in the lobby who are waiting to interview him. "Can I come down my bathing suit?" he asked as they were put on the phone, and then added, "Never mind, I'm my coming downstairs like this." Apparently, spontaneity can be a wonderful strength in the business.
We all move downstairs, where we meet up with his PA, who informs him on the next day's agenda. A meeting with Phyno. A studio session with Iyanya and Mystro. A meeting with the CEO of Heritage Bank together with BamBam. A Jamaican-themed party in Abuja wants to know if he can make an appearance. A nightclub in Abuja wants to know the cost of bringing him down. There's a photoshoot with the House of Malik to be used for their next cover.
It was such a stacked schedule, I doubt if Teddy-A could fully fathom it himself. It was a deep contrast to what life was for him two years ago. "I dey my Mama house for two years, bro, almost doing nothing," he tells me after we settled at the poolside bar following his interview. When I asked how that was possible, since I thought he was signed to Big-A Entertainment, he responded that things didn't work out as either party had planned. "Big-A was like a father to me, he really took me in. But it just didn't happen. I didn't blow."
What did he make of the huge celebrity support behind him while he was in the house? "It was huge. They did more than people actually thought they did. They really supported. The guys who ran my IG page told me. But in a way, I wasn't too surprised to see those who did, those guys are blood. I ride with them any day."
"Where were these guys when you weren't 'the man' so to say though?" I asked with a subtle hint of sarcasm, or perhaps, mischief. "Well, life is not that serious at the end of the day. Did I feel like no one was trying to hook up with me in those days of obscurity? Yeah, I definitely felt that. But that's just a common feature of life. If your friends are growing and you're not, at some point, they wouldn't want to hook up with you that much. It's not about celebrities. It's in every sphere of life. I don't hold these things against people. I try to see it as a call to wake up and work hard instead. To be at par with your pals. Iron sharpeneth iron bro; that's how I see it. I stood on my feet for more than 5 hours in the Big Brother Naija audition line here in Lagos. There were probably up to 17,000 of us countrywide. I just wanted to prove I can cut my teeth in the hustle, to have another chance at this whole showbiz thing."
At this point, he moves to the edge of his seat, as if to make sure I'm really listening to this particular part. "Really though, I saw the BBN opportunity as God giving me another chance. And believe me, it's something I'm never taking for granted. The love I've received, trust me, I wasn't expecting it all of it. It's just overwhelming. Really. The fans have been wonderful, and I'm going to be as open and accessible as possible. I'll be on the radio whenever I can, if not physically, I'll be open to call-in interviews. I'll respond to fans on my twitter or Instagram page."
"Even the negative comments?" I ask, with a slight chuckle.
"Ah, G. No, I'll just skate over those ones. Act like I didn't see them. Would respond to the positive ones though. That's the energy I want. Positive vibes."
On the table, everyone pours themselves another shot, I, Teddy, and the two other friends, who dove into the conversations wherever they found fit. In between all of the talk, I struggle to string Teddy along the lines of what even brought me. Of course, I was enjoying talking about every other thing but brand strategy or communication strategy. He drops a few words about Alpha Records, his would be Music Company, and hopes of a clothing line. "Fashion has always been a passion for me, man."
The BBN euphoria was still on, and it seemed there was a lot on his mind he needed to unload. One of the other guys asked him if he felt his confidence might have been translated as arrogance by some of the housemates. "Yeah, I definitely felt that. But the last thing I would do is to dim my lights because some people feel insecure around me or have qualms that I'm a confident man. Nah, I'll never do that. I tell you what, I was raised by a single mother, but she always told me, hey, it doesn't matter what you're going through, what problems you have, when you wake in the morning, clean up nice, put on some good clothes and walk with your head high. I'll never wish for anyone to dim their lights so they don't put me in the shade. I say let's all come out bright. Let's all shine. That's my philosophy."
Was he bored in the BBN House at some point? I asked, curiously. "There was a bit of that, yes. Which is the irony, isn't it? You are outside and you can't wait to get into the House. And then you're in the house, you can't stop thinking of all the things you would do when you get out." A loud roar or laughter rang across the table, as he lights a stick of cigarette before continuing.
"It's never easy living under constant surveillance though. That, I can tell you. If anyone says it's easy, I swear, I would be happy to drive them to the next BBN House myself. You know, there are things you do in your own house, and because it's just you there, it's perfectly fine, because you can't tell what anyone else feels about it. But it's not the same if you live under constant surveillance. O boy, na all your fuck-ups dey for camera o! I mean, you can't even masturbate in peace sef!"
After four hours of hearty chat, with the Martell and Hennessy VS now fully vanquished, Teddy yawns and calls one of the porters to ask if there was buffet dinner left. "Yes, sir," he responded, grinning recklessly.
"Please, can you ask the reception to call Bam's room and ask if she wants food?" Teddy tells the porter. Incidentally, I was about to ask how it really was between them? Where they really a pair?
Well, that show of concern kind of shut me up. I mean, how else do Nigerians say I love you when they can't say I love you? Yes, you guessed right: they ask you if you have eaten.  Teddy-A is a beautiful soul who is taking his second chance with both hands. And it's not hard to see why many young Nigerians are taken in by his personality. Ol' boy is as real as they come.
Mitterand Okorie is the author of the novel, All That was Bright and Ugly, published by Blues & Hills